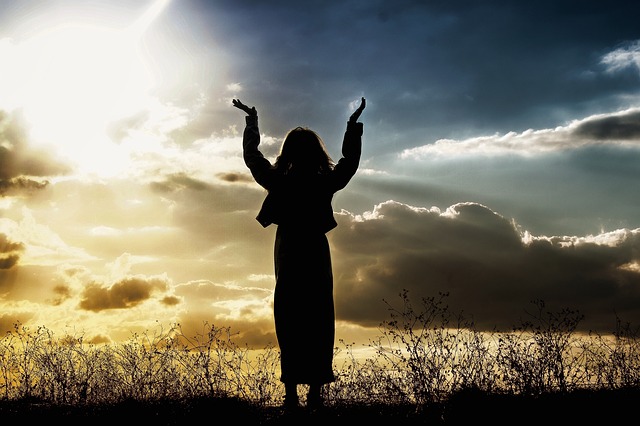 Prayer
- it's more than talking to God. Praying is
communing
with God, becoming one with God. To pray is enter another realm of consciousness and to communicate on a plane that is different from our ordinary. To live a life that is fully, and totally prayerful is the goal of many people. Some faith traditions ask their followers to wear a head covering whenever they are praying. In other faiths, praying people assume a certain position of head, body or hands.
Prayer Workshop - Basic
Join Rev. Darla in an exploration of the many prayerful ways we can communicate with God. We will learn various ways to pray, many definitions of prayer and how useful praying can be in your spiritual practice. We will dissect a few common prayers to discover the parts of a prayer; and then construct a new prayer for use in your daily practice.

Praying with Color
Quiet your mind by using art supplies to commune with God. Soft music plays, as your colors spread over the page in a pattern that only you can create in the moment. Part one is praying with NAMES; part two is praying with SCRIPTURE. Our western culture has diminished the use of Art in everyday life to connect with our souls. Let's re-visit that idea! No artistic training required; all materials supplied.
Please register here, so we can have supplies ready for you
Praying with Color part one Tuesday, September 14 7:00 - 8:00 pm
Praying with Color part two Tuesday, September 21 7:00 - 8:00 pm
There is no fee; the danabowl is in the meeting room.
Calm in the Chaos Interfaith Center 585.494.1795/revdarlabair@gmail.com www.calminthechaos.org