"Community is the most neglected and probably the most difficult ingredient for us to hold to in the U.S. context. And for the most obvious of reasons - we have come to worship at the altar of independence, individualism and autonomy. As much as there is a deep hunger for connection, common purpose, and kindred hearts, there is a merciless, deep-rooted entrenchment in the forces of competition, freed an dself-rule." ~ Father Richard Rohr,
For program dates, click here: CALENDAR
Balancing Class A six-week program for consciously making good life choices
BookShare Bring a favorite read and share; the discussions following are always amazing
Christian Women Mini-retreats and workshops connecting us to God more deeply
Circling Class Ten-week program written by Jan Phillips to use creativity in your connection with Spirit
Drumming Connect with the heartbeat of the Earth! We have drums.
GODtalks Watch on your time schedule; twenty minutes of quiet each week
Labyrinth Events Workshops, world-walks, prayer walks.
Let It Go Release emotional and physical clutter into the winds
Prayer Workshop Unpack famous prayers, learn new ways to pray
Sacred Connection Share thoughts and opinions on a spiritual topic Third Sunday of each month
Vision Boards Manifest life changes with laser-beam focus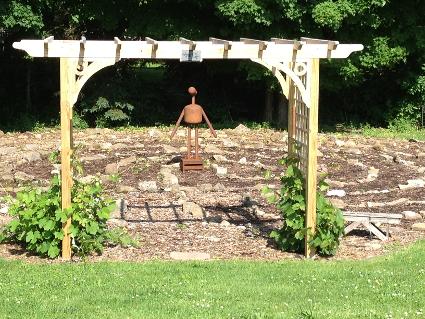 The Calm in the Chaos labyrinth is open to the public for walking meditation. A labyrinth gives us the opportunity to quiet the mind and allow Spirit to speak to us. Our feet always know where to step next - there is no chance of a mistake as with a maze. When you get to the center, pause with George the Grateful, a metal sculpture created by artist John Archer. When you are ready, spiral your way back out of the labyrinth, coming into the world again, renewed, relaxed, whole again. Most people walk in silence so with music playing privately with earbuds. When you come to walk, please leave a text or voice message that you are on the property. 585.494.1795
Click here to see our listing on the National Labyrinth Society website
Dana is a Sanskrit word meaning generosity. Many of our programs are based on the concept that spiritual lessons that were and are offered by the world's greatest spiritual leaders did not come with a monetary fee. Our *dana bowl is inside the front door; if you want to contribute something, we are grateful. If you cannot or choose to not contribute, we want you here anyway. There is no judgment and no expectation. We realize this is unusual in our consumer-based society, but we feel it is the most loving way to operate a spiritual center.
Calm in the Chaos Interfaith Center 585.494.1795 6590 Lake Road South, Brockport, NY 14420