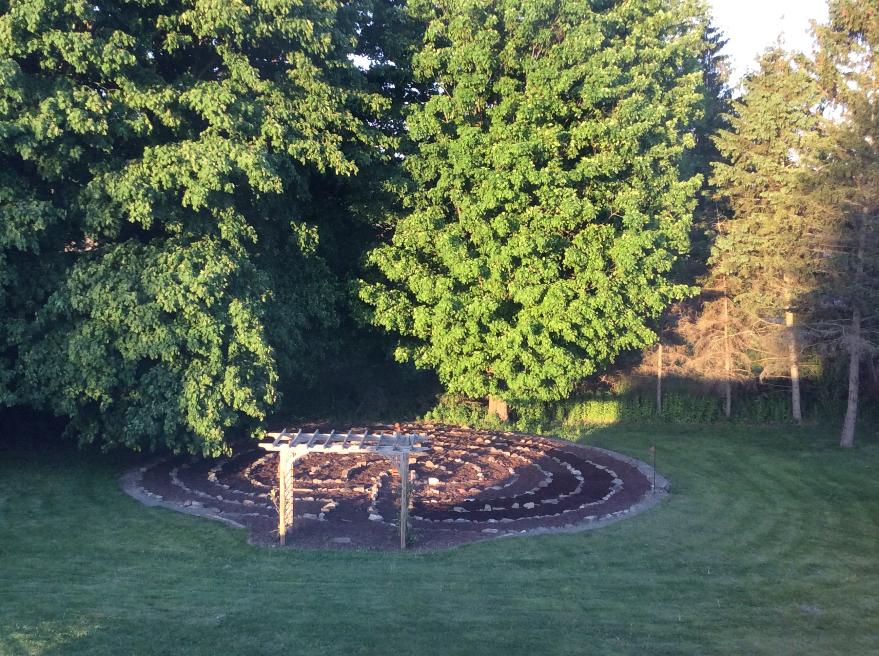 LABYRINTH HISTORY at Calm in the Chaos Interfaith Center
The Old Barn Labyrinth was birthed during April and May, 2011. It was a long but fruitful labor of love, planned during the winter and executed by me, with the strong arms and capable minds of three young men, Dave Steves, Steven Johnson and Liam Honeck. Paths are outlined with rocks from the pre-Civil War barn foundation on the property. Mulch makes a soft walking surface. The Old Barn Labyrinth is located on the east side of the
Calm in the Chaos Interfaith Center
, and was planned for community participation.
After we birthed it, the questions were - Who will come to bring it alive? Who will add a visual, a sound? Whose footprint will be invisible? Who will linger for grief healing? Who will stop by out of curiosity?
Poets, celebrants, novelists, pastors, people living with cancer, journalists, feng shui practitioners, intuitive healers, herbalists, wedding parties, gem healers, church groups, sculptors, seekers of the Light, individuals, retreat groups, garden clubs, college field trips, painters … over the years I have made many new friends because of the labyrinth. It costs nothing to walk. And may yield powerful results in your life. Pull your car right onto the lawn adjacent to the road, and begin your walking journey, spiraling inwards towards yourself.