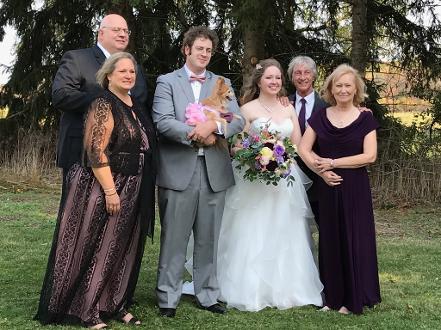 Wedding on October 10 2020, a very windy day on the Calm in the Chaos property. The chihuahua presented the rings in a tiny heart-shaped pouch on her collar.
Dear Darla, We want to thank you again for an incredible ceremony. Truly we are speechless, it was perfect in every way. You have a gift and we feel blessed to have you share it with us.
Love, A and T August, 2020
Helping couples to orchestrate Perfect Weddings Since 1986
You have said, "Yes, I'll marry you!" Now what?
If you want your "I do's" to have an atmosphere of calm presence, call me.
I am Rev. Darla Bair, the Director of Calm in the Chaos Interfaith Center, and I will bring to life the wedding you imagine. Eloping? No problem. 40 guests in a big barn? No problem. Immediate family standing under the arbor in your back yard? I hear you.
By calling me, you get not only an ordained, seminary-trained clergy, but also an experienced event planner who listens to your ideas and wishes and will help you to have a Perfect Wedding.
For ten years, I was the New York State Director of the National Association of Certified Wedding Consultants, training others how to build their own wedding planning businesses. I bring many years of expertise to your beautiful day. When we have our initial consultation, we will discuss not only the ceremony, but many other details of your perfect wedding.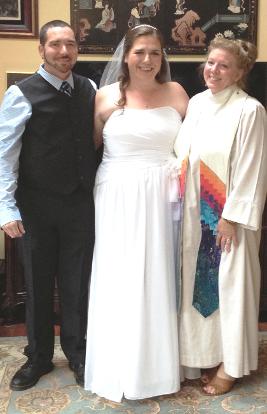 At our first meeting, we will work our way through a packet of information to help you find Calm in the Chaos of planning a wedding! It isn't easy being the leading lady or man, writing the script, directing the show, choosing the costumes and making sure the rest of the cast members perform their duties! I will help you with as much of the planning as you wish. But, let's focus on the ceremony here --
Your ceremony will be exactly as you want it. Religious, spiritual, earth-centered, non-religious, pagan, or a mixture of several elements the two of you want. Formal or informal. Indoors or out. I will listen carefully to your plans, offer suggestions and help you to construct a Perfect Wedding day, just the way you want it. I will officiate for any two people of legal age, who demonstrate to me that they understand the depth of commitment that is required in marriage.
Please download the Wedding Planner Sheet and Wedding Contract below, complete them and mail to me as soon as you and I have agreed on a wedding date.
The Wedding Package as your Officiant is $425 The Elopement Package is $300
The fee for Wedding Consulting depends on the size and details of your wedding.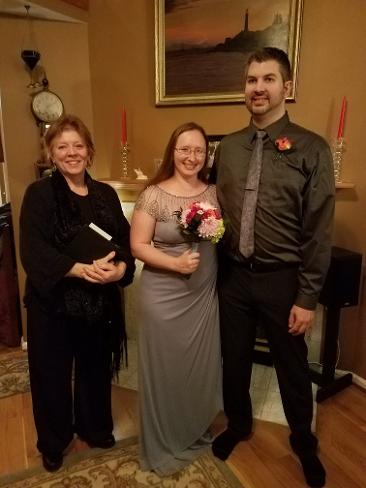 Calm in the Chaos Interfaith Center